Kommos beach
Kommos, both a famous archaeological site and a stunning beach, has ancient roots in the Minoan period, as it has served as a harbor for centuries. Later, it developed into a central point for trade and cultural exchange. Rent a car with Blue Car rental and start exploring this historic location now!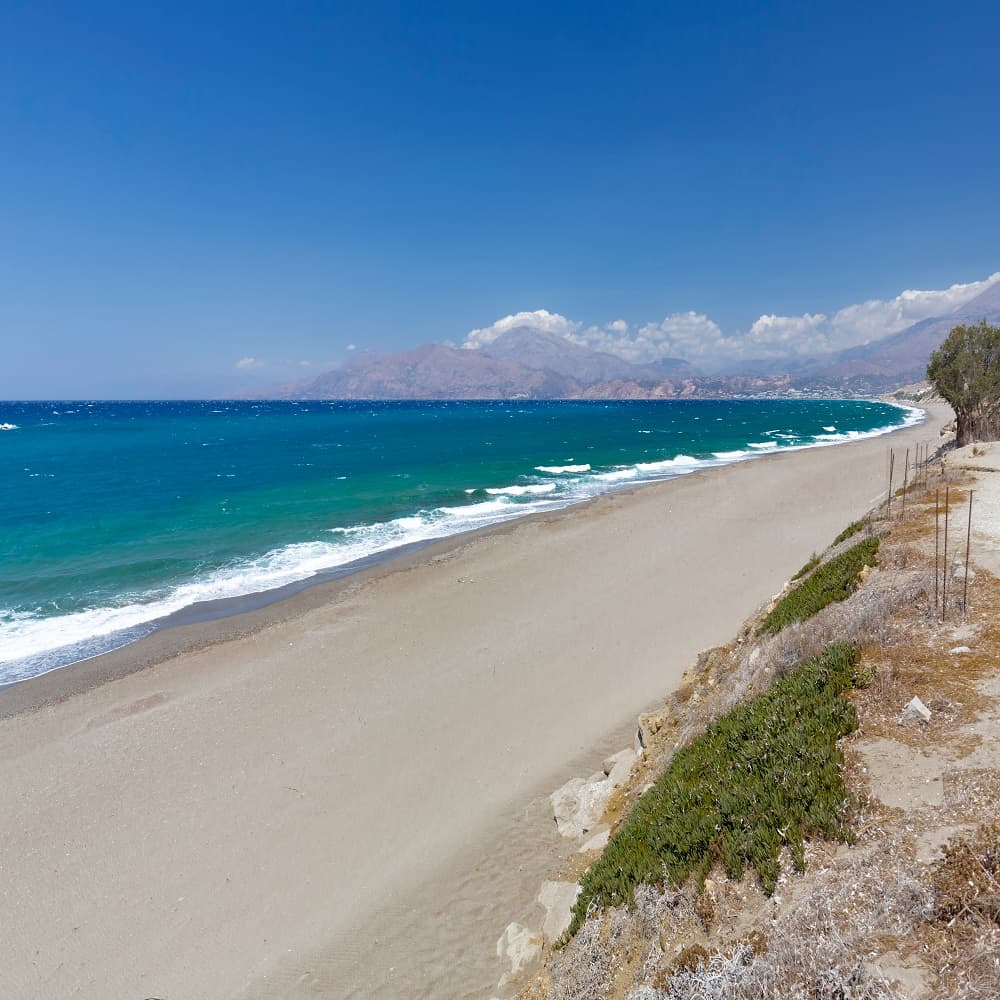 Kommos Beach
A Seaside Paradise
Welcome to Kommos Beach, an enchanting coastal gem found on the stunning island of Crete, Greece. At about 60km southwest of Heraklion, this beach boasts crystal-clear waters, golden sands, and breath-taking surroundings. Rent a car from Heraklion airport and enjoy a scenic hour-long drive to this coastal gem. Kommos Beach offers a paradise-like experience for visitors. In this blog post, we will dive into the numerous activities and attractions that make Kommos Beach an ideal destination for beach lovers and adventure seekers alike. Discover the hidden wonders of this exquisite location and get ready for an unforgettable experience on the shores of Kommos Beach!
Embracing Nature's Splendour
At Kommos Beach, nature takes centre stage, captivating visitors with its unrivalled beauty. As you step onto the warm sands, take a moment to admire the azure waters gently lapping against the shore. The beach is fringed by stunning dunes and protected by the Natura 2000 program, ensuring the preservation of its pristine ecosystem.
For nature enthusiasts, a leisurely stroll along the coast will reveal a variety of flora and fauna. Look out for the endangered loggerhead sea turtles that nest on this very beach, an awe-inspiring sight during the nesting season from May to October.
*Remember to maintain a respectful distance and adhere to the guidelines to protect these remarkable creatures.
** Explore the wonders of nature with ease! Rent a car hassle-free from Heraklion or Chania airport, Heraklion port, or select hotels in the city. No credit card required. Book your car now and embark on your adventure!
Exciting Water Activities
Kommos Beach offers an array of exhilarating water activities suitable for all ages. Dive into the turquoise waters and explore an underwater world teeming with vibrant marine life. Snorkelling and scuba diving opportunities abound, allowing you to discover the hidden treasures beneath the surface.
If you prefer a more thrilling experience, try your hand at windsurfing or kitesurfing. The favourable wind conditions and ample space make Kommos Beach an ideal spot for these adrenaline-pumping activities. Lessons and equipment rentals are readily available, ensuring that both beginners and experienced enthusiasts can enjoy the thrill of gliding over the waves.
Unveiling Ancient Wonders
Kommos Beach is not only a haven for beach lovers but also a treasure trove of ancient history. Take a short walk inland, and you'll discover the archaeological site of Kommos, an ancient Minoan city that flourished over 4,000 years ago. Explore the ruins and witness the remnants of a once-thriving civilization.
Renting a Hyundai i10 (Group Α) opens up a world of convenience and exploration. This compact yet reliable car provides an excellent opportunity to delve into the rich archaeological heritage of the region. Within just a 5-minute drive inland, you'll have access to a plethora of unique archaeological sites, each telling a story of ancient civilizations and their fascinating cultures. With a rental car like the Hyundai i10, you'll enjoy nimble handling, making navigation through narrow roads and parking in tight spaces a breeze. Its fuel efficiency ensures that you can explore without constant refuelling stops, and the comfortable seating for four passengers means you can share the adventure with friends or family. This car is not only a mode of transportation; it's a key that unlocks the treasures of the past, allowing you to delve into history at your own pace and convenience.
As you wander through the archaeological site, you'll encounter fascinating artifacts, including pottery, statues, and intricate frescoes. Immerse yourself in the rich history and unravel the secrets of the past. The site's location offers breath-taking views of the surrounding landscape, adding an extra layer of enchantment to your journey.
Savouring Culinary Delights
After a day of adventure, indulge in the culinary delights that Kommos Beach has to offer. Nearby tavernas and beachside cafes provide a variety of traditional Cretan dishes prepared with fresh, locally sourced ingredients. Treat your taste buds to mouth-watering seafood delicacies, such as grilled octopus or freshly caught fish.
Embark on your culinary exploration with the VW Polo, a versatile compact rental car designed to enhance your journey. Its spacious interior comfortably seats five, making it an excellent choice for families or small groups. With a generous luggage capacity, you'll have ample room for your belongings, ensuring a comfortable and clutter-free ride. The manual gearbox offers a direct and engaging driving experience, while features like air conditioning, Bluetooth, and a USB port provide modern convenience. Whether you're navigating coastal roads or inland paths, the VW Polo is a reliable companion for your Cretan adventure.
Don't miss the opportunity to sample the famous Cretan olive oil, renowned for its exceptional quality and flavour. Pair it with locally produced cheeses, aromatic herbs, and freshly baked bread for a truly authentic gastronomic experience. The warm hospitality of the locals adds to the overall charm, making every dining experience a memorable one.
Explore Kommos' Surroundings
Experience the island in style with the Toyota Corolla, an elegant sedan that combines comfort and sophistication. With seating for five and a spacious interior, it's ideal for both leisurely drives and longer journeys. The impressive luggage capacity ensures you can bring along all you need for a day of exploration. The manual gearbox offers precise control, allowing you to navigate the island's diverse terrain with ease. Modern features like air conditioning, Bluetooth, and a USB port add a touch of luxury to your travels. Discover Crete in comfort and style with the Toyota Corolla.
Kommos Beach in Crete is a captivating destination that offers a perfect blend of natural beauty, exhilarating activities, ancient history, and delightful cuisine. Whether you're seeking relaxation, adventure, or cultural exploration, Kommos beach will surely be the highlight of your year!
Don't forget, securing a car rental with Blue Car Rental is a breeze! You can reserve one online or visit our counters at Heraklion and Chania airports, or even at Heraklion port. Through our online booking form, you also have the option to collect your rental from specific hotels around Heraklion. Plus, enjoy all these advantages without requiring a credit card! Reserve your car now and uncover the unmatched charm of Crete!