Xerokambos & Sitia beach
Sitia, or originally ancient city Etea and Xerokambos, or directly translated dry plain, are known for their otherwise arid landscapes and pristine beaches. Take a deep dive into these unparalleled destinations by renting a car from Blue Car rental and exploring the ins and outs of their gorgeous beaches!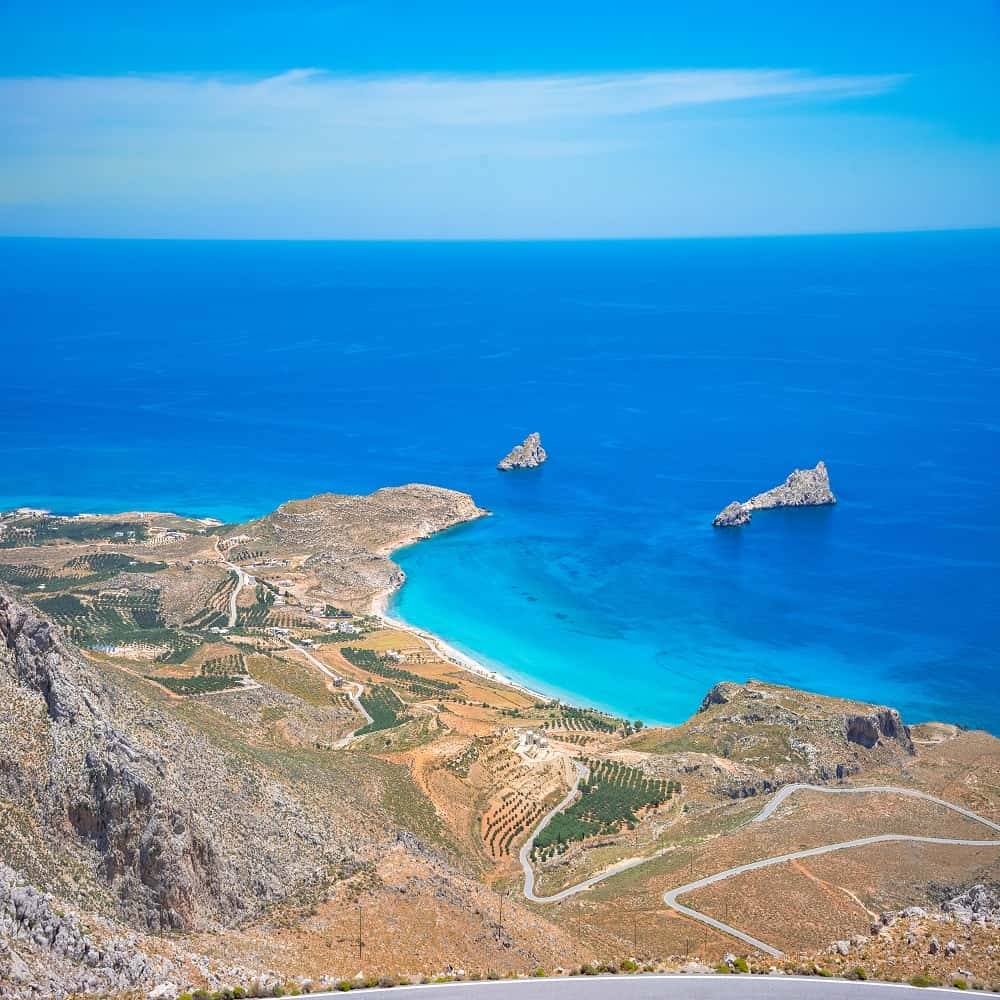 Xerokambos & Sitia Beach
An Eastern Crete Odyssey
Nestled along the tranquil eastern coast of Crete, you'll discover a captivating duo of coastal gems: Xerokambos and Sitia Beach. These enclaves offer a harmonious blend of natural splendour, cultural heritage, and serene tranquillity. Situated approximately 130 kilometres from Heraklion, they are separated by a mere 15 kilometres of picturesque terrain. To embark on this memorable journey, consider renting a car from either Heraklion Crete Airport or Chania Airport. Alternatively, opt for the convenience of online booking, with the flexibility to pick up your vehicle at any of the aforementioned locations, including Heraklion Port or select hotels around Heraklion.
While Xerokambos is a remote, secluded enclave for those seeking utmost tranquillity, Sitia Beach offers a more accessible, culturally rich experience with a broader range of amenities and activities. Allow us to guide you through an experience that maximizes the beauty and cultural wealth of your journey:
Atmosphere and Ambiance
Discover Xerokambos…
Known for its extreme seclusion and tranquility. It's a place for those seeking isolation from the hustle and bustle of the world. The beaches are small, with golden sands and clear waters, and the area is surrounded by sweeping cave-filled mountainsides. Nightlife is virtually non-existent, and mobile reception is limited.
Or Sitia Beach
which while still retaining a quieter atmosphere compared to more popular destinations in Crete, is a larger coastal town with a more developed infrastructure. It offers a mix of cultural experiences, relaxation, and natural beauty. It has a charming town centre, historical sites like the Venetian Castle, and a wider range of amenities.
Accessibility
Xerokambos is extremely remote. It's located on the far southeastern edge of Crete, and getting there requires a fair amount of travel, even from the nearest major cities like Heraklion. Rest assured that you will have a safe and enjoyable journey by renting the car that best suits your needs with Blue Car Rental! Make your reservation and experience both sides of the coin during your vacation to Greece.
Sitia is more accessible, with a regional airport (Sitia Airport) that facilitates easier travel. It's also connected to other parts of Crete by road, making it relatively convenient to reach.
Tourism and Crowds
Tourism in Xerokambos is low-key, and the area experiences fewer crowds compared to more popular tourist destinations. The busiest period is typically in July and August. Sitia however, while not as heavily touristed as some of the more famous coastal towns in Crete, sees a more consistent flow of visitors throughout the year. It offers a range of amenities and activities that cater to tourists.
Beach Characteristics
Xerokambos is known for its small coves with golden sands and calm Mediterranean waters. The beaches here are often praised as some of the most beautiful and pristine in Eastern Crete.
Sitia Beach offers a long stretch of sandy shoreline with clear, calm waters. It's a great place for sunbathing and swimming.
Get the best of both worlds with your rental car whether you are travelling from Heraklion or Chania airports or port!
Activities
Activities in Xerokambos are primarily centered around enjoying the natural beauty. There are opportunities for swimming, snorkeling, and exploration of the surrounding landscapes. If you are looking for a bit more of an outing, drive your rental car for 20 minutes to Sitia and discover a wider range of activities, including watersports like windsurfing, paddleboarding, and kayaking. The town also has historical sites, cultural experiences, and a variety of dining options.
Travel
1.Discover nearby Vai Beach: A Palm Oasis
A brief drive from Sitia takes you to Vai Beach, famous for its palm forest. Here, you can unwind under the shade of towering palms, soaking in the natural beauty.
2. A must-visit to Moni Toplou Monastery: A Historical Jewel
A short distance away stands the Moni Toplou Monastery, a place of historical and spiritual significance. Adorned with intricate frescoes, it offers a journey through the region's rich heritage. The monastery's unique architecture and cultural importance make it an essential visit.
3. Take on a Day Trip to Kato Zakros
Embark on a day trip to Kato Zakros, a village embraced by dramatic cliffs and rocky landscapes. Here, the Minoan Palace of Zakros unveils the island's ancient history, dating back to approximately 1900 BC.
Terrain
Given the terrain and roads around Xerokambos, it's advisable to choose rental cars that are reliable and can handle potentially rougher paths. Even when traveling from bigger cities like Heraklion or Chania, the terrain you might find near Xerokampos and Sitia might be rougher. Here are three recommended cars from Blue car rental's fleet:
Α. Skoda Kamiq Gasoline Automatic (Group D2a)
Category: Compact SUV
Seating Capacity: 5
Doors: 5
Luggage Capacity: 4
Gearbox: Automatic
Features: Air Conditioning, Bluetooth, USB port
Price: Starting from €48.00 per day
Why? The Skoda Kamiq is a compact SUV, offering a bit more ground clearance which can be helpful on rougher roads. The automatic gearbox provides ease of driving, and it has ample space for both passengers and luggage.
Β. Dacia Duster Gasoline Automatic (Group D4)
Category: Compact SUV
Seating Capacity: 5
Doors: 5
Luggage Capacity: 4
Gearbox: Automatic
Features: Air Conditioning, Bluetooth, USB port
Price: Starting from €49.00 per day
Why? The Dacia Duster is known for its robustness and suitability for different terrains. The automatic transmission makes driving more comfortable, especially for longer journeys, and it offers good luggage space.
C. VW Taigo Gasoline Automatic (Group D3a)
Category: Compact SUV
Seating Capacity: 5
Doors: 5
Luggage Capacity: 4
Gearbox: Automatic
Features: Air Conditioning, Bluetooth, USB port
Price: Starting from €49.00 per day
Why? The VW Taigo is a versatile and reliable option. With its automatic gearbox and compact SUV design, it's a good choice for navigating different road conditions.
These cars combine features like automatic transmission for ease of driving and enough space for passengers and luggage. Given the potentially rougher terrain around Xerokambos, having a vehicle that can handle such conditions is essential for a comfortable and worry-free trip.
Visiting Xerokambos and Sitia Beach grants you an exceptional chance to uncover the hidden treasures of Crete's eastern coast. In this captivating region, nature, history, culture, and relaxation harmonize, creating an unforgettable journey. Experience the authentic essence of Crete, and don't forget to heed the tips provided for an extraordinary adventure.
⚠️ Don't forget, securing a car rental with Blue Car Rental is a breeze! You can conveniently reserve your vehicle online or visit our counters at Heraklion Airport and Chania Airport, or even at Heraklion Port! Take advantage of our online booking form to arrange pick-up from specific hotels in the Heraklion area. The best part? No credit card required! Reserve your car today and uncover the unmatched charm of Crete!