Vai, Palm Forest
The root of the name of this captivating destination seems to be the word vagia, meaning palm tree in some Cretan dialects in Greece. Vai beach, with a fitting name that stems from reality and encapsulates perfectly its focal point, is another one of nature's wonders! Rent a car with Blue Car rental and find peace among the tall palm trees!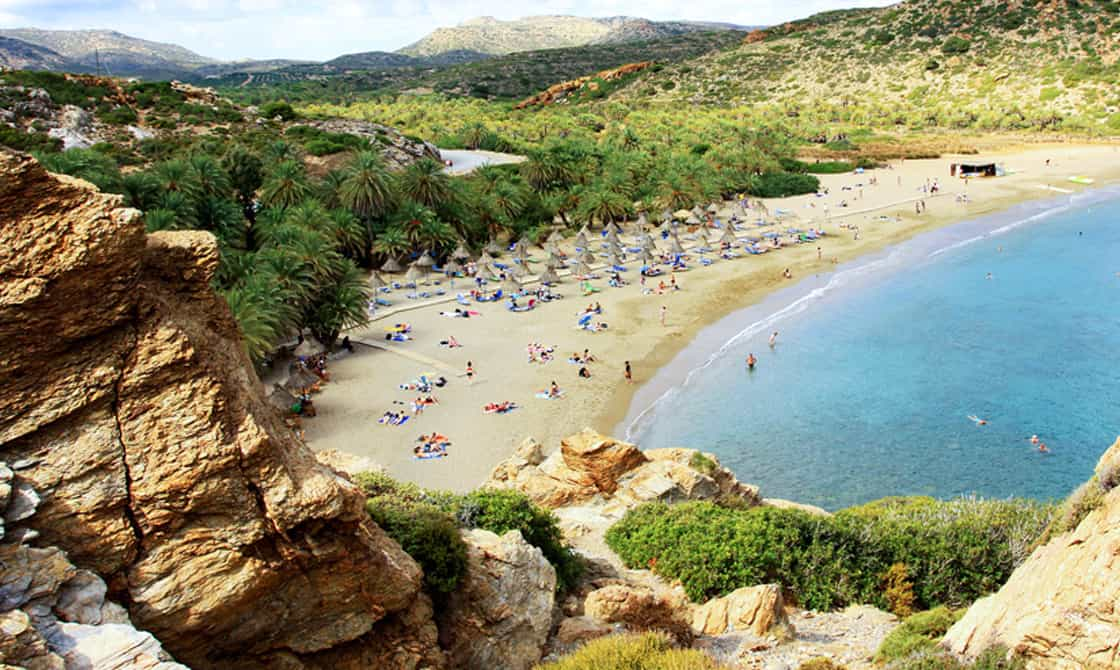 Vai Beach
Vai Beach is a true slice of paradise on the eastern coast of Crete, known for its beautiful palm forest and clear blue waters. At 150km from Heraklion, and two and a half hours of scenic views and clear skies the preferred method of transport tends to be by car. Apart from the view, the road is easy and simple, with palm groves near the road alerting you that you are close to the beach. One thing to keep in mind is public transportation does not extend to this destination. The only alternative would involve taking a bus to Sitia, then arranging for a taxi or exploring other transportation options. However, this can be notably more challenging in comparison to the convenience of having your own rental car available throughout your journey. Rent the car of your convenience from Blue car rental in Heraklion or Chania airport. Alternatively, find the rental that best suits your needs by arranging to pick it up from Heraklion port or the Heraklion hotel of your choice. Follow this comprehensive insider's guide to Vai beach and get the most recent tips on how you can enjoy your trip to Vai to the fullest.
Explore the Palm Forest
Vai Beach is famous for its palm forest, which is the largest natural palm grove in Europe. Take a leisurely stroll through the palm trees and enjoy the shade and tranquility they provide.
Swim in the Crystal-Clear Waters
Vai Beach boasts crystal-clear waters that are perfect for swimming and snorkeling. The shallow waters near the shore are ideal for families and children. If you are travelling with your rental car, rest assured you will find a parking spot right outside the beach but still try to be as early as possible as the beach is a popular destination for tourists and locals alike.
*Tip: Rent a Hyundai i20, a versatile and reliable compact car that offers a comfortable and smooth ride. It is well-suited for navigating both city streets and coastal roads whether you are traveling from Heraklion or Chania. With its efficient fuel consumption, it's a practical choice for longer journeys. This car provides ample space for up to five passengers and has a good-sized luggage compartment, making it suitable for small groups or families.
Sunbathe on the Sandy Beach
Relax on the soft sandy beach, soak up the sun, and enjoy the natural beauty of the surroundings. Vai Beach's palm-fringed shoreline provides a picturesque backdrop for sunbathing.
Watersports
For those seeking more adventure, Vai Beach offers watersports activities such as paddleboarding, canoeing, and windsurfing. Rent equipment from local vendors and have some fun on the water.
Hike to the Nearby Hills
Behind Vai Beach, there are hills with scenic viewpoints that offer panoramic views of the beach and the surrounding coastline. Hiking to these viewpoints provides an opportunity to capture breathtaking photos.
*Tip: Rent a Kia Stonic, a compact SUV with a sturdy build, making it an excellent choice for exploring varied terrains around Vai Beach. It offers higher ground clearance, providing better stability on potentially uneven roads. The manual gearbox allows for greater control, and the car's efficient fuel consumption ensures you can cover longer distances without frequent refueling, which is ideal if you will be traveling from Heraklion city to Vai beach. With seating for up to five passengers and a reasonable luggage capacity, the Stonic is a practical option.
Picnic in Nature
Vai Beach and the surrounding area are perfect for picnics. Pack a picnic basket with delicious local treats and find a shaded spot in the palm forest or on the beach to enjoy your meal.
Boat Trips
Consider taking a boat trip along the coast to explore other hidden beaches and coves in the region. Boat excursions often depart from nearby towns and offer a unique perspective of the coastline.
Drive to the Monastery
Near Vai Beach, you'll find the Monastery of Toplou, a historical and religious site worth visiting. The monastery houses an interesting museum with religious artifacts and exhibits. The monastery, steeped in centuries of tradition, offers a profound insight into the religious and architectural heritage of Eastern Crete, providing a meaningful contrast to the natural beauty of Vai Beach.
*Tip: Pick a VW Taigo for your 10-minute trip to Moni Toplou. It is a versatile and comfortable car with a blend of style and functionality. It's equipped with a manual gearbox, making it easy to handle on coastal roads. With its well-designed interior, it offers a spacious and comfortable ride for up to five passengers. Taigo's moderate fuel consumption ensures you can explore the area with ease and flexibility, which is what you should be looking for while renting a car from Heraklion. It's a great choice for those looking for a balance of performance and comfort during their trip to Vai Beach. Make your reservation here and start your journey now!
Sunset Views
Vai Beach offers stunning sunset views over the sea. Stay until the evening to witness the magical colors of the setting sun as it paints the sky in various shades of orange and pink.
Respect the Environment
Vai Beach is a protected area, so it's essential to respect the natural surroundings. Avoid leaving any trash behind and follow any guidelines to help preserve this beautiful and unique ecosystem. While on this matter, and since the car ride to get to this must-see destination is longer than usual for an island like Crete, consider a more sustainable option for your rental car. Consider a Toyota Corolla (Group E), the most environmentally friendly choice in our fleet. It operates on gasoline and offers a balanced blend of fuel efficiency and low emissions which makes it a more sustainable option. Opting for the Toyota Corolla allows you to reduce your carbon footprint while still enjoying a comfortable and reliable ride during your trip to Vai Beach.

The inside scoop
When you get to Vai Beach here's a few things you need to keep in mind and be prepared for to make the most out of your visit:
Arrive Early
Vai Beach is a popular destination, especially during the peak summer months. To secure a good spot on the beach and avoid crowds, consider arriving early in the morning. Renting a car will surely secure that spot easier and in a more comfortable setting.
Explore the Surrounding Area
While at Vai Beach, take the time to explore the surrounding region. There are other beautiful beaches, such as Itanos and Erimoupolis, nearby that are worth visiting for a change of scenery. Rent your car without a credit card from Heraklion or Chania and explore the majestic scenery of Crete.
Protect the Environment
Vai Beach and its palm forest are protected areas. Help preserve the natural beauty by not picking the palm fruits or disturbing the wildlife. Dispose of your trash responsibly and follow any guidelines set by local authorities. Secure your Toyota Corolla here and keep your rental car green during your trip to Vai beach.
Sun Protection
The Cretan sun can be strong, so make sure to wear sunscreen, a hat, and sunglasses to protect yourself from sunburn and heat exhaustion.
Bring Snacks and Water
Although there are beachside cafes and tavernas, it's a good idea to bring your own snacks and plenty of water, especially if you plan to spend a full day at Vai Beach.
Visit Off-Season
If you prefer a quieter experience, consider visiting Vai Beach during the shoulder seasons (spring and autumn) when there are fewer tourists, and the weather is still pleasant.
Photography
Vai Beach offers fantastic photo opportunities, especially from the hills behind the beach. Don't forget your camera to capture the stunning views. For your own convenience and flexibility, make sure to rent your own car to get around. It is truly worth it considering the lasting memories this trip will leave you with.
Water Shoes
While the sandy part of the beach is comfortable for walking, the sea bottom can be rocky in some areas. Consider bringing water shoes for added comfort and safety.
Plan Transportation
Vai Beach is relatively remote, so plan your transportation in advance. Rent your car in advance or check for available bus services or consider booking a guided tour that includes Vai Beach in its itinerary.
Respect Local Rules
Be mindful of any rules and regulations in place at Vai Beach, such as restrictions on camping or open fires.
By following these tips, you can make the most of your visit to Vai Beach, enjoying its natural beauty and ensuring a pleasant and respectful experience for yourself and others. Remember to bring sunscreen, a hat, and plenty of water, as the sun can be intense during the summer months. With its stunning natural beauty and diverse activities, Vai Beach provides a memorable and enjoyable experience for visitors of all ages.