Chrissi island
Named after its golden sands, Chrissi Island stands as a testament to the power and beauty of nature in the Aegean waters of Greece. A fascinating wonder of the earth, it is truly worth a visit during your vacation. Rent a car with Blue Car rental and set off on an adventure to discover nature's wonders!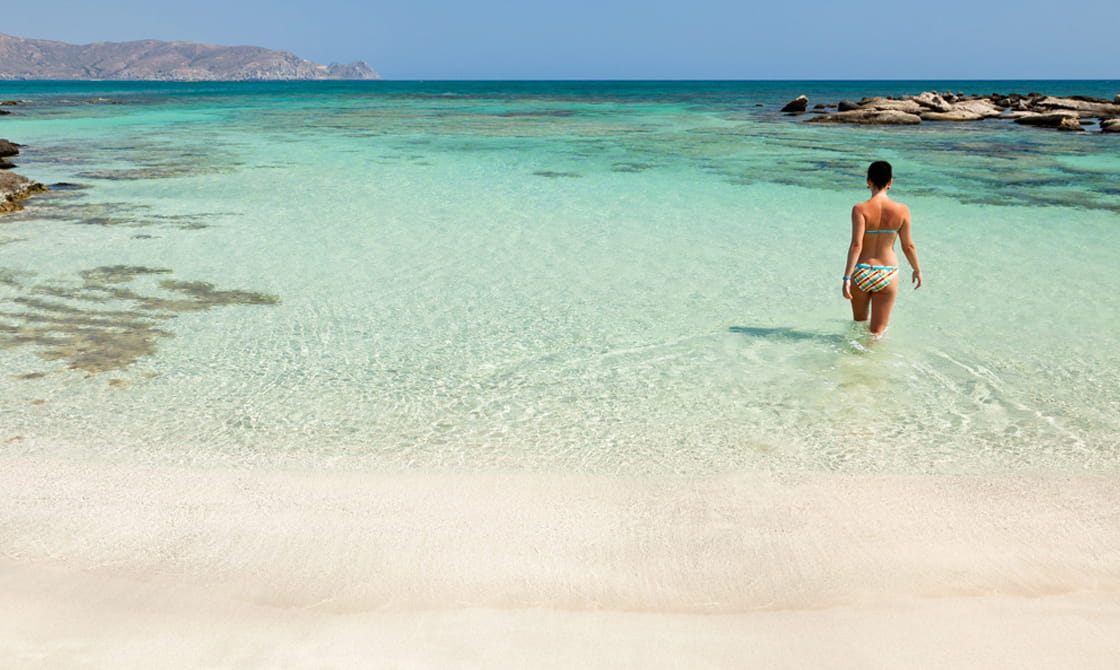 Chrissi Island
A Pristine Paradise in Crete's Protected Waters
Nestled in the enchanting waters of the Libyan Sea, Chrissi Island stands as a pristine paradise off the southern coast of Crete. Known for its mesmerizing turquoise waters, vibrant coral reefs, and a captivating cedar forest, Chrissi Island has long been a cherished destination for travelers seeking an untouched and idyllic retreat. In order to reach near Chrissi, you will need to rent a car and travel about 97km east to Ierapetra port. The trip is about an hour and a half from Heraklion and once you reach the port you may take a boat up that will leave you a few meters from the shores. In this blog post, we'll explore the unique allure of Chrissi Island, taking into account its protected status, which prohibits visitors from staying too long on its shores. Keep reading to learn everything you need to know about a fascinating visit to Chrissi.
A Protected Natural Wonder
Chrissi Island, also known as Gaidouronisi or the Golden Island, is a protected natural reserve managed by the Greek Forestry Department and a protected reserve part of the Natura 2000 Program. To preserve its delicate ecosystem and unique biodiversity, the authorities have imposed strict regulations that restrict access to the island's interior and beaches.
Crystal-Clear Waters and Coral Reefs
While visitors are not allowed to disembark on Chrissi Island, the crystal-clear waters surrounding the island are open to exploration. Snorkelers and divers can indulge in the surreal underwater landscapes, swimming amidst vibrant coral reefs and a plethora of marine life, including colorful fish, sea turtles, and even dolphins that occasionally grace the waters with their presence. Rent a car from Heraklion or Chania airport, from Heraklion port or from selected hotels around the city. No credit card is required! Book your car now here and start exploring the wonders of nature!
Cedar Forest and Botanical Wonders
Chrissi Island is home to a captivating cedar forest, the only of its kind in Europe. Although the forest remains off-limits to visitors, its presence has contributed to the island's allure and ecological significance. The island's flora includes rare and endemic plant species, making it a living laboratory for botanists and nature enthusiasts alike.
Flora and Fauna Diversity
The restricted access to Chrissi Island has been crucial in safeguarding its rich flora and fauna diversity. The cedar forest, primarily composed of the native juniper trees (Juniperus macrocarpa), is one of the highlights of the island's ecosystem. These ancient trees, some dating back centuries, create an otherworldly ambiance as they stand tall against the shimmering sea. The island's vegetation also includes fragrant herbs, wildflowers, and various plant species unique to the region. To further aid in the preservation of the precious environment in and around Chrissi, opt for the most environmentally friendly rental car in our fleet, the Toyota Corolla. Keep reading for more information.
Birdwatchers' Paradise
For birdwatching enthusiasts, Chrissi Island is a haven of avian activity. Numerous migratory birds make a stopover here during their journey between Europe and Africa. From graceful herons to colorful bee-eaters, the island offers ample opportunities to spot rare and exotic bird species. The island's serene atmosphere also attracts seabirds, creating an ideal setting for birdwatchers to observe these magnificent creatures in their natural habitat.
Historical Mystique
Beyond its natural wonders, Chrissi Island carries an air of historical mystique. Ancient ruins and Roman tombs have been discovered on the island, indicating that it has been inhabited since antiquity. Although visitors cannot explore these historical sites up close, the mere knowledge of their presence adds to the island's allure and fuels the imagination of history enthusiasts.
Yacht Cruises and Boat Trips
Visitors yearning for a glimpse of Chrissi Island's breathtaking beauty can embark on boat trips and yacht cruises that circumnavigate the island's coastline. From the deck of the boat, travelers can marvel at the island's natural splendor, capturing panoramic views of the crystal-clear waters, the enchanting, forested landscape, and the untouched beaches.
Eco-Friendly Tourism
Chrissi Island's protected status emphasizes the importance of eco-friendly tourism. Boat operators and excursion organizers prioritize environmental responsibility, ensuring that visitors do not disturb the island's sensitive ecosystems. These eco-conscious practices aim to preserve the island's natural beauty for generations to come.
Respect and Conservation
The restricted access to Chrissi Island reminds visitors of the significance of respecting nature and preserving untouched paradises. While travelers may not disembark on the island's shores, the experience of witnessing its untamed beauty serves as a reminder of the importance of conservation efforts worldwide.
The drive to Ierapetra
Rent your car from Heraklion without a credit card and have an unforgettable experience. We recommend booking one of these three cars that are well-suited for a trip to Ierapetra and Chrissi Island, considering factors such as road conditions and terrain.
Category: Sedan

Seating Capacity: 5

Doors: 5

Luggage Capacity: 5

Gearbox: Manual

Features: Air Conditioning, Bluetooth, USB port

Price: Starting from €39.00 per day
Category: Compact SUV

Seating Capacity: 5

Doors: 5

Luggage Capacity: 3

Gearbox: Manual

Features: Air Conditioning, Bluetooth, USB port

Price: Starting from €40.00 per day
Category: Compact SUV

Seating Capacity: 5

Doors: 5

Luggage Capacity: 4

Gearbox: Automatic

Features: Air Conditioning

Price: Starting from €48.00 per day
The Toyota Corolla offers ample space and efficiency, while the Kia Stonic provides a good balance of size and maneuverability. The Skoda Kamiq, with its automatic gearbox, offers added convenience for a relaxed driving experience. Remember to choose based on your specific preferences and needs for the trip! Make your reservation early to book your preferred rental car.
Chrissi Island remains a testament to the preciousness of untouched natural wonders in a world where pristine environments are becoming increasingly rare. As a protected island, Chrissi teaches us the value of preserving these sanctuaries for future generations. While visitors may not physically step ashore, the ethereal beauty of Chrissi's turquoise waters, vibrant coral reefs, and captivating cedar forest still captivates the hearts of travelers from afar. By embracing the importance of conservation and respecting its protected status, we ensure that Chrissi Island's timeless allure endures, inspiring us to cherish and safeguard the natural treasures that enrich our world.
❗ Remember, renting a car with Blue car rental is easy! Make a reservation online, through our stall in Heraklion airport as well as Chania airport or even from Heraklion port! Through our online form you may opt to pick up your rental from selected hotels around Heraklion too! All the benefits without the need of a credit card! Book your car now and discover the unparalleled allure of Crete!