Phaestos Palace
The ancient city of Phaistos has provided its name for this extraordinary palace near Heraklion. A testament to the Minoan times, this destination offers both a deep knowledge of Crete's rich history and an amusing storytelling of a long-lost mythical era. Rent a car with Blue Car rental and learn Crete's mysteries!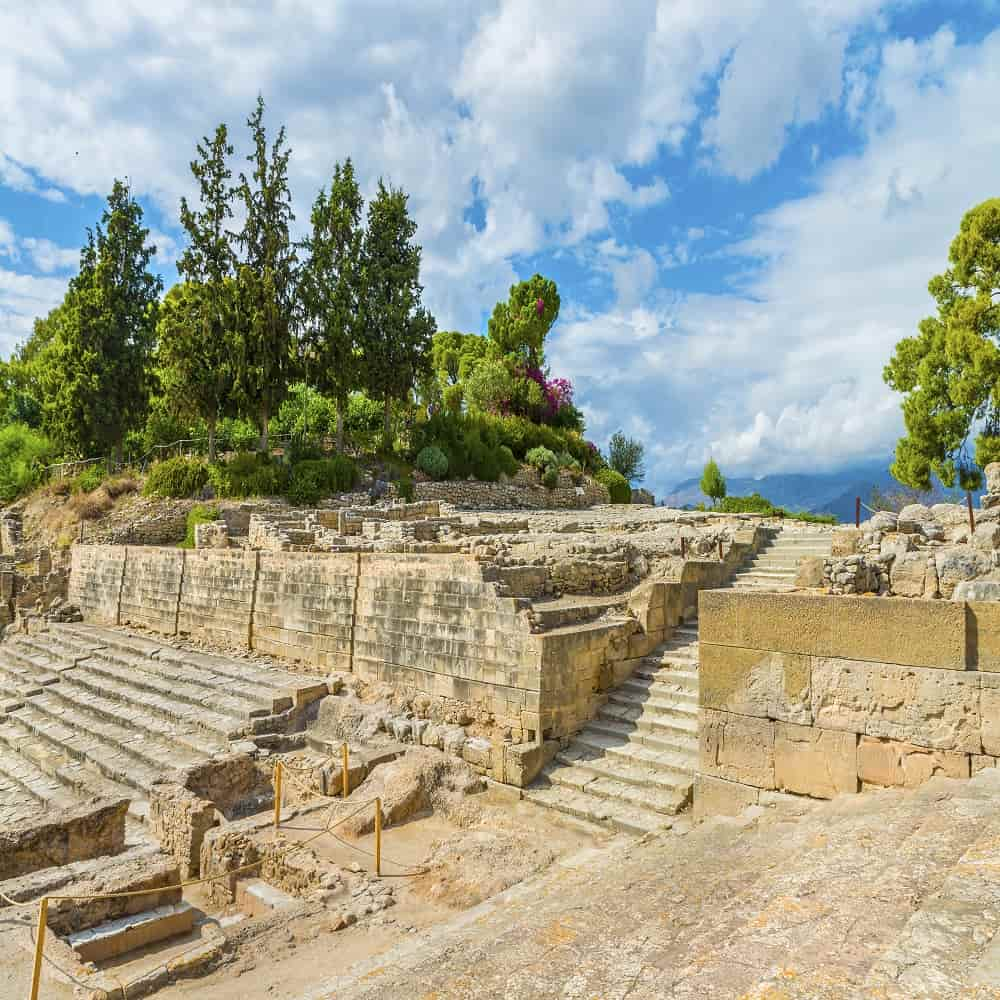 Hidden in the heart of Crete, the ancient ruins of Phaestos Palace stand as a testament to the island's rich history and vibrant past. This archaeological marvel, situated near Heraklion, offers a captivating journey back in time to the Minoan civilization, one of the most advanced and intriguing cultures of the ancient world. Located about 60km southwest of Heraklion and at about an hour drive, it is one of the wonders of Crete one must experience!
When embarking on this historical adventure, convenience is key, and that's where Blue Car Rental steps in. Renting a car to explore Phaestos Palace is as simple as a gentle breeze off the Mediterranean. With Blue Car Rental's fleet, you have the freedom to choose from an array of vehicles, ensuring your journey is both comfortable and memorable. Here's how!
| Mystical Minoan Adventure |
From Heraklion Airport to Phaestos Palace!
Welcome to Crete, the island of legends and ancient wonders! Get ready for an unforgettable adventure, made easy with Blue Car Rental. Here's a fun-filled itinerary to guide you from Heraklion Airport to the mystical Phaestos Palace:
Day 1: Heraklion Airport - A Journey Begins!
Morning
10:00 AM: Arrive at Heraklion Airport (or Heraklion port or even Chania airport) and head straight to the Blue Car Rental counter. Our friendly staff will swiftly guide you through the rental process, allowing you to hit the road in no time. No need to worry about the hassle of credit cards; Blue Car Rental makes the entire experience seamless and stress-free.
For this exciting itinerary spanning from Heraklion Airport to Phaestos Palace, we recommend the three best fitting cars from Blue Car Rental's fleet. Firstly, the Hyundai i20 from Group Β offers comfortable seating and ample luggage space, making it perfect for a multi-day adventure, whether in urban areas or rugged terrains. Next, the VW Polo, also from Group Β, combines efficiency with a spacious interior, providing an excellent option for a diverse itinerary that includes visits to archaeological sites, beaches, and scenic routes. Lastly, the Kia Rio, also from Group Β, strikes a balance between comfort and fuel efficiency, ensuring a reliable companion for a journey that encompasses city exploration, historical site visits, and coastal experiences. With any of these cars, your exploration of Crete is bound to be smooth and enjoyable.
11:00 AM: Hit the road! Your chariot awaits. First stop: Knossos Palace. Marvel at the grandeur of Europe's oldest city and uncover the secrets of the Minoan civilization.
Lunch
1:00 PM: Head to Heraklion's city centre. Find a local taverna and savour some mouthwatering Cretan delicacies. Don't miss the famous moussaka!
Afternoon
3:00 PM: Explore the Heraklion Archaeological Museum. Immerse yourself in a treasure trove of ancient artifacts and Minoan art.
5:00 PM: Drive to Agia Pelagia for some relaxation on the beautiful beach. The crystal-clear waters are perfect for a refreshing swim.
Dinner
8:00 PM: Enjoy a seafood feast at a seaside taverna in Agia Pelagia. The sunset view is breathtaking!
Day 2: Southward Bound to Phaestos Palace!
Morning
9:00 AM: Wake up to the sound of waves and enjoy a leisurely breakfast by the sea.
10:30 AM: Pick up your convenient rental car and depart in comfort for Phaestos Palace. As you set out towards Phaestos Palace, the picturesque Cretan landscape unfolds before you. With the wind in your hair and the sun on your back, you'll find yourself immersed in the island's breathtaking beauty. The scenic drive takes you through picturesque villages and rugged landscapes. The well-maintained roads and clear signage make navigating the route a breeze, ensuring you arrive at your destination without a hitch.
Lunch
1:00 PM: Arrive at Phaestos Palace. Arriving at Phaestos Palace, you'll be struck by the sheer grandeur of this ancient site. Explore the intricately designed chambers, marvel at the ancient artifacts, and imagine life in this once-thriving palace complex. The rich history and archaeological significance of Phaestos Palace offer a truly enriching experience. Consider ruminating in this ancient aura a little longer by having a picnic lunch amidst ancient ruins, surrounded by history.
Afternoon
3:00 PM: Embark on a guided tour of Phaestos Palace. Let the expert guides transport you back in time.
5:00 PM: Take a leisurely walk around the palace grounds. The panoramic views are spectacular!
Dinner
7:00 PM: After your visit, simply hop back into your Blue Car Rental car and set off on the next leg of your adventure. Whether you choose to explore more historical sites or uncover hidden gems around Heraklion, having a rental car at your disposal provides the ultimate flexibility and convenience.
Day 3: Homeward Bound with Memories in Tow
Morning
9:00 AM: Enjoy a leisurely breakfast at your accommodation.
10:30 AM: Time to wrap up your adventure. When it's time to return your vehicle, Blue Car Rental ensures a hassle-free process. Their commitment to exceptional service means you can focus on reliving the wonders of Phaestos Palace without any worries. Return your rental car to Blue Car Rental at Heraklion Airport or any of your chosen drop-off points.
Departure
12:00 PM: Bid farewell to Crete. Until next time!
In every step of your journey, Blue Car Rental is your trusted partner. From the moment you step off the plane in Heraklion to the time you bid farewell to the captivating ruins of Phaestos Palace, we make renting a car a seamless and enjoyable experience. So, embark on your historical voyage with confidence, knowing that with Blue Car Rental, convenience is never more than a call or click away.
Arrange this itinerary as you wish and begin a magical journey through the rich culture of Crete! Remember, Blue Car Rental is here to make your journey smooth and memorable. Have a fantastic trip!