Falassarna beach
The ancient city of Falassarna seems to be derived from a different era. The imposing sandstones and ancient ruins all around make its history evident. Rent a car from Blue Car rental and be transported to days of old. After your visit to the world-renown beach, take to discovering the remains of the Hellenistic period.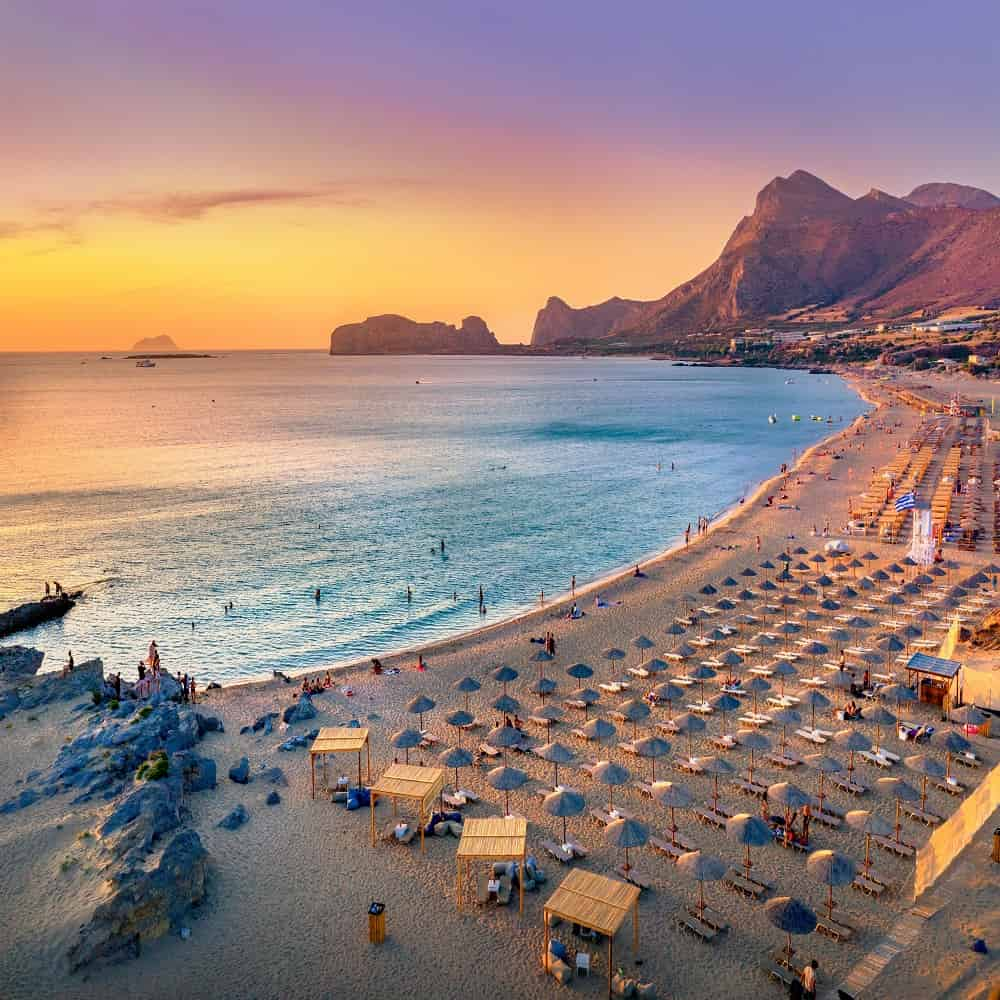 Falassarna Beach
A Coastal Gem of Golden Sands and Pristine Waters
The western coast of Crete is home to Falassarna, a beach of unique beauty well-suited to the island of the island. With its long stretches of golden sands, crystal-clear waters, and breathtaking sunsets, Falassarna Beach entices travellers in search of serenity and natural wonders. Delve into the allure of Falassarna Beach, uncover its unique features, and discover valuable tips and tricks to ensure an unforgettable and seamless experience in this coastal paradise. Make sure to rent a car either from our branch in Heraklion or Chania airport, from Heraklion port or from selected hotels around Heraklion and make your trip one for the books!
1. Bask in the Golden Sands and Tranquil Atmosphere
Drive safely from Heraklion (186km or about 3 hours) or Chania (50km or one hour) through the picturesque roads and make sure to reach Falassarna early for a better experience. Rent a comfortable Huyndai i20, a reliable option to explore Falassarna as its compact size makes it easy to maneuver on both highways and narrower roads ensuring a smooth and convenient journey. When you get there you will see one of the most picturesque coastlines in Crete, with its expansive stretches of golden sand that seem to go on forever. Take a leisurely stroll along the shore, feel the soft grains beneath your feet, and soak in the tranquillity of the surroundings. Find your spot on the beach, set up your umbrella, and let the soothing sound of the waves wash over you. Falassarna Beach's peaceful atmosphere provides the perfect setting for relaxation and rejuvenation.
2. Dive into Crystal-Clear Waters
The crystal-clear waters of Falassarna Beach beckon visitors to take a refreshing dip and explore the underwater world. Whether you're an experienced swimmer or a novice snorkeler, the pristine waters offer a captivating experience. Dive beneath the surface to discover vibrant marine life, including colourful fish and fascinating rock formations. Snorkeling gear is a must for those wishing to fully immerse themselves in the underwater beauty. The calm and shallow waters near the shore make Falassarna Beach ideal for families and those seeking a leisurely swim.
*If you are travelling with family, a better choice of rental car would be a Toyota Corolla especially if you are traveling from Heraklion. As a sedan it will offer more space and comfort, additional luggage capacity and a smooth ride, perfect for a longer journey to Falassarna.
3. Witness Breathtaking Sunsets
Falassarna Beach is renowned for its awe-inspiring sunsets, painting the sky with hues of gold, pink, and orange. As the sun descends on the horizon, find a cozy spot on the beach, or sit at one of the beachfront tavernas and witness nature's magnificent display. Capture the moment with your camera or simply take in the breathtaking sight as the colours reflect on the tranquil waters. Watching the sunset at Falassarna Beach is an unforgettable experience that will leave you in awe of nature's splendour.
4. Explore the Surrounding Nature and Archaeological Site
Beyond the beach, Falassarna offers opportunities for nature enthusiasts and history buffs alike. Embark on a hike along the nearby trails, such as the E4 European Long-Distance Path, to witness panoramic views of the coastline and surrounding landscapes. Explore the diverse flora and fauna that inhabit the area and keep an eye out for unique bird species.
Additionally, visit the ancient city of Falassarna, an archaeological site located nearby, to immerse yourself in the region's rich history and learn about the ancient civilizations that once thrived in this area. It is only about 2km or 10 minutes by car away from the beach and very much worth a visit. Pick up your rental car and discover the ancient remains of an old city. Select a VW Polo for its quality and efficiency. It provides ample space for passengers and luggage making it a practical choice for a day trip to Falassarna.
Tips and Tricks for a Seamless Experience
While renting a car is essential for this trip whether you are travelling from Chania or Heraklion, there are a few more things that are important to know when you first get there that will enhance your trip as well as your experience at the beach. To make the most of your visit to Falassarna Beach, here are some valuable tips and tricks:
- Timing is key
Arrive early in the morning or late in the afternoon to avoid the peak crowds and secure a prime spot on the beach. This is one of the main reasons renting a car is important.
- Sun protection
Pack essentials such as sunscreen, hats, and sunglasses to protect yourself from the strong Mediterranean sun.
- Beach amenities
While Falassarna Beach offers some facilities, it's advisable to bring your own beach essentials, including towels, beach chairs, and umbrellas.
- Snorkeling gear
Don't forget to bring your snorkeling gear to explore the underwater beauty and vibrant marine life.
- Nearby provisions
There are a few beachside tavernas and cafes where you can enjoy refreshments and local cuisine. However, consider bringing your own water and snacks, especially if you plan to spend a long day at the beach. Take your rental car for a ride around town and you won't regret it!
- Explore beyond the beach
Take the time to explore the surrounding nature trails and visit the archaeological site to enrich your experience in Falassarna. Simply decide on whether you would prefer a compact rental car for easy maneuvering around town or a rather spacier option to stay in the safe.
Falassarna Beach, with its golden sands, crystal-clear waters, and stunning sunsets, offers an idyllic retreat for travellers seeking natural beauty and tranquillity. Whether you're lounging on the beach, snorkeling in the turquoise waters, or exploring the surrounding nature trails, Falassarna Beach captivates with its breathtaking charm. By renting a car and following the above tips and immersing yourself in the wonders of Falassarna Beach, you're guaranteed a memorable journey that will leave you with a deep appreciation for the enchanting allure of Crete's western coast.