Georgioupolis Beach
Named after Prince George of Greece, who owned Georgioupoli in the late 19th century during the Ottoman occupation. Today, it's a charming resort where the river meets the sea. Rent a car with Blue Car rental and unearth the rocky coast and long sandy beach of Georgioupoli!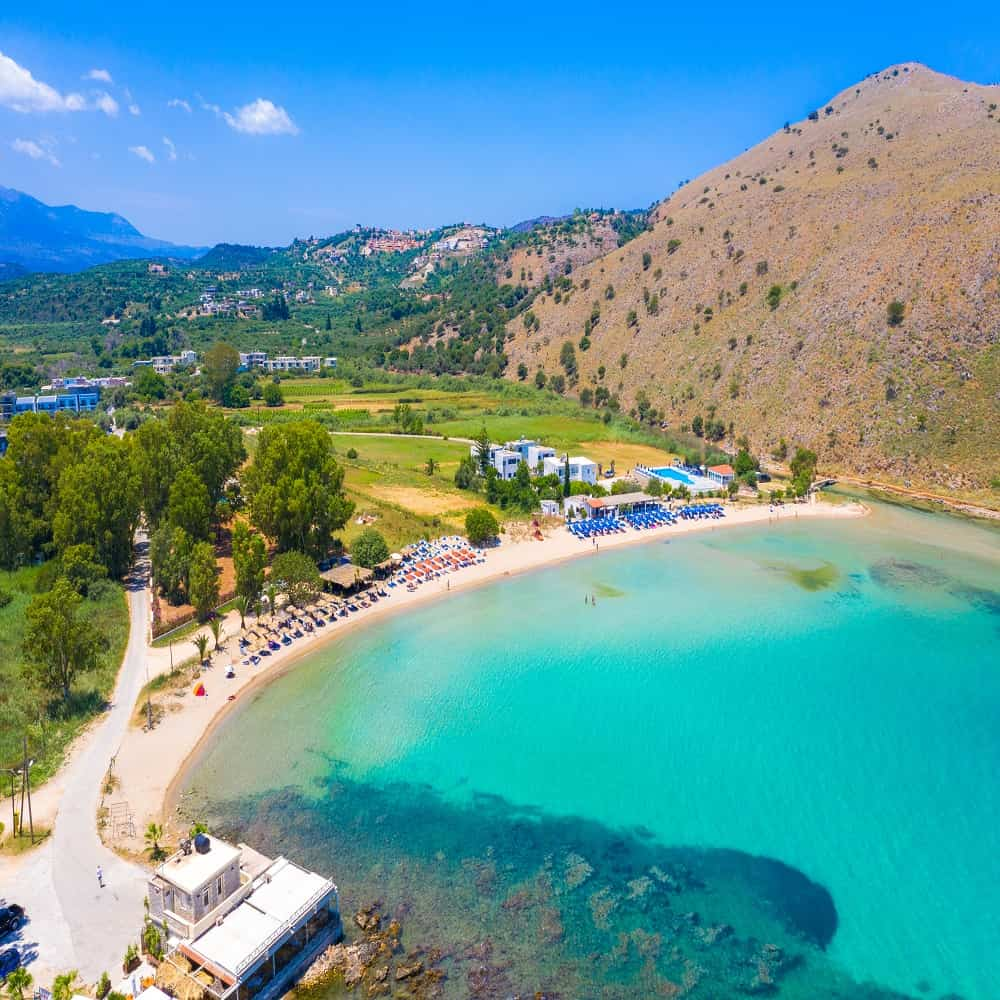 Georgioupolis Beach
A Tranquil Haven with Sandy Shores and Azure Waters
Nestled on the northern coast of Crete, Georgioupolis Beach beckons to those in search of a peaceful seaside escape. With its sweeping sandy shores, crystal-clear Mediterranean waters, and the backdrop of the majestic White Mountains, Georgioupolis exudes natural beauty and serenity. Delve into the allure of this coastal gem, uncover its unique features, and discover valuable tips and tricks to ensure an unforgettable experience in this tranquil haven. Secure a rental car from our branch in Heraklion or Chania airport, from Heraklion port, or from selected hotels around Heraklion to embark on a journey to this enchanting destination.
Embrace the Serenity of Sandy Shores and Azure Waters
A scenic drive from Heraklion (148km or approximately 2 hours) or Chania (38km or around 45 minutes) leads to the welcoming embrace of Georgioupolis Beach. Consider renting a car comfortable and efficient enough such as the VW Polo to navigate both highways and local roads with ease, ensuring a smooth journey to this tranquil haven. As you arrive, you'll be greeted by the sight of a wide expanse of golden sands meeting the shimmering turquoise sea. Take leisurely strolls along the beach, feel the softness of the sand underfoot, and relish the serenity that surrounds you. Find your perfect spot, set up your beach essentials, and let the gentle waves lull you into relaxation.
Dive into the Crystal-Clear Mediterranean Waters
The crystal-clear waters of Georgioupolis Beach invite you to immerse yourself in their refreshing embrace. Whether you're a seasoned swimmer or a first-time snorkeler, the pristine waters offer an opportunity to explore the vibrant underwater world. Equip yourself with snorkeling gear to discover an array of marine life and intriguing rock formations. The calm and shallow nature of the shoreline makes Georgioupolis Beach an excellent choice for families and those seeking a leisurely swim. For families or larger groups, consider a spacious Kia Stonic, offering both comfort and ample storage space for beach gear and essentials. The Kia Stonic combines the agility of a compact car with the versatility of an SUV. It's a great choice for those who want a bit more space and stability for the journey to Georgioupolis Beach. Book now online or visit our branches in Heraklion or Chania airport, Heraklion port or arrange to have your car delivered to your Heraklion hotel.
Witness Breathtaking Sunsets and Natural Beauty
Georgioupolis Beach boasts breathtaking sunsets that cast a warm glow across the horizon. As the day draws to a close, find a peaceful spot on the beach or settle into one of the charming beachfront tavernas. Allow nature's artistry to unfold before you, painting the sky with hues of gold, pink, and orange. Capture the moment with your camera or simply absorb the tranquil beauty of the scene. These sunsets are a reminder of the unrivaled splendor of Crete's natural landscapes.
Tips and Tricks for an Unforgettable Experience
While renting a car is essential for this trip, there are a few additional insights to enhance your visit to Georgioupolis Beach:
Arrive Early for Tranquility
For a more peaceful experience, aim to arrive early in the morning or in the late afternoon to secure an ideal spot on the beach. Pick one of the rental cars we suggest or your preferred one from our fleet that offers a range of options to suit different preferences and needs for your trip to Georgioupolis Beach. Be equipped with the comfort, reliability, and features that will enhance your travel experience.
Ensure you have sunblock, hats, and sunglasses to shield yourself from the Mediterranean sun's intensity.
While some amenities are available, consider bringing your own towels, chairs, and umbrellas for added comfort.
Explore the Surrounding Area
Take some time to venture beyond the beach and discover the charming village of Georgioupolis and its surrounding natural beauty. The Toyota Corolla as a sedan, provides additional space and comfort, making it suitable for a longer journey. It offers ample luggage capacity, ensuring a smooth and enjoyable ride to Georgioupolis Beach.
By renting a car and applying the above tips, you'll embark on a journey to Georgioupolis Beach that promises tranquility, natural beauty, and cherished memories. The golden sands, clear waters, and captivating sunsets of this coastal haven await your discovery. Allow yourself to be captivated by the charm of Crete's northern coast, and revel in the serene allure of Georgioupolis Beach.